How I picked the best surfing lessons, classes, and camps for beginners

What's a family photographer doing writing about the best surf lessons in San Francisco? I meet a lot of families, both local and vacationing, that want to learn to surf in the Bay Area. I'm a lifelong surfer and I know from experience that this can be a daunting place for beginners. For anyone, really. The cold water, the grey fog, the potential for big waves and riptides. You, your friends, and even your kids can learn to surf in San Francisco. But it's really important that you find the right lessons, classes, or surf camp for you.
You want qualified instructors who are both friendly and safety-conscious. They need to be responsive and professional so that you are never surprised or left hanging. Easy equipment rentals are a huge plus, as it is expensive to buy all the gear right away.

Note that this list is ordered based on proximity to San Francisco, not popularity.
Beach: Ocean Beach, wherever conditions are best.
Drive from SF: none!
Equipment Rentals: included with lesson
Offerings: private instruction
Minimum age: 4 years old

Aqua Surf Shop, at the heart of the Ocean Beach surf scene in San Francisco, provides private surf lessons through a professional local instructor named Scott Wagner.

Scott doesn't have a fancy website or online bookings, but after all the positive things I heard through the local grapevine, I knew I had to get him on the phone.

Scott grew up in Hawaii and has been surfing for most of his life. He even competed on the World Qualifying Series. He is super laid back and easy to talk to, but takes ocean safety very seriously and maintains a CPR certification. What he provides for his clients is a truly personalized experience. He learns about your surfing goals and your level of comfort in the ocean, and together you create a gameplan.

All ages are welcome with Scott, but his greatest passion lies in teaching kids. He loves the opportunity to help shape the way they interact with the ocean. Don't take my word for it – here's an excerpt from an online review.
" [his] patient, kind, enthusiastic vibe is contagious. Great with my son too—funny, generous, and safety conscious."
Uniquely, Scott offers lessons whenever and wherever the conditions are ideal. He's one of the few coaches willing to take you out to Ocean Beach if the conditions are right. And if they are not (they likely are not) he will seek out the best option for your surf experience.
Beach: Linda Mar
Drive from SF: 25 minutes
Equipment Rentals: included with lesson
Offerings: private instruction, group lessons, organized classes, surf camp
Minimum age: 8 years old
Adventure Out is the only National Surf Schools and Instructors Association accredited surf school in the Bay Area. The oldest continuously operated surf school on the SF Peninsula, they guarantee that their instructors are both lifeguard and first-aid certified, so your safety is a priority.

Beginner surf classes and lessons are held at Linda Mar Beach in Pacifica. They also offer multi-day surf lessons and adventures for intermediate and advanced surfers. They even have guided surf trips to Big Sur.

Their website clearly lays out a packing list, the cancellation policy, and the details about what to expect. You can even book online.

If you have a kid between ages 8-12, you might also want to have a look at their 3-day summer surf camps. With a maximum 4:1 instructor-to-student ratio and expert coaches, they offer a great option for kids learning to surf.



Beach: Linda Mar
Drive from SF: 25 minutes
Equipment Rentals: included with lesson
Offerings: private instruction, group lessons, organized classes, surf camp
Minimum age: 6 years old

Surf Camp Pacifica has been offering surf instruction at Linda Mar Beach since 2000. A number of their instructors are lifeguard certified, and all of them are First Aid and CPR trained. They even do weekly instructor training to stay current.

A unique thing about Surf Camp Pacifica is that they take a truly stepwise approach to learning to surf. From the fundamentals to body surfing and bodyboarding, you are always headed for the next stepping stone.

With a maximum student-to-instructor ratio of 4:1, and a dedicated "Beach Director" always keeping an eye on the big picture, Surf Camp Pacifica also offers 3-hour surf camps during the summer.
Beach: Linda Mar
Drive from SF: 25 minutes
Equipment Rentals: included with lesson
Offerings: small group and private instruction
Minimum age: unknown

University of Surfing is focused on small group and private lessons. Wetsuits and surfboards are included, although they do offer a discount if you bring your own equipment.

One unique thing about University of Surfing is the video series that founder Matt Cole has put together. Check out the University of Surf YouTube Channel!



Beach: Surfer's Beach (Princeton Jetty)
Drive from SF: 35 minutes
Equipment Rentals: included with lesson
Offerings: private lessons, group lessons, summer camps
Minimum age: 6 years old


Blue Swell Surf School is a women-owned and operated surf school in San Mateo county. This is a true family business run by a pair of sisters (surf coaches) and their mom (she answers your emails). When I talked to Ella (sister) on the phone, she told me how her Northern California beach upbringing has shaped her teaching style. Her love for the beach and the ocean were contagious. When it comes to surf lessons and camps she says that standing up on a surfboard is the plan, but sharing the joy of the ocean is the true goal.
Blue Swell offers private and group lessons at their go-to beginner surf spot of Surfer's Beach at the Princeton Jetty. They also offer advanced instruction for more experienced surfers. Something cool that Blue Swell offers is group lessons even if you don't have a group. You simply sign up on a list and they let you know when they've filled a group lesson. Lessons are typically 1.5 hours, with a maximum group size of 8 beginner surfers.

During the months of June, July, and August, Blue Swell operates a weekly summer surf camp for kids. The camps are Monday thru Friday, 9 am to 1 pm. The camps are about having fun and learning as well, including a beach walk and "beach cleanup contest!"

Want to learn more? Check out this LA Times article spotlighting Blue Swell!
Beach: Surfer's Beach (Princeton Jetty)
Drive from SF: 35 minutes
Equipment Rentals: included
Offerings: private lessons, group lessons, summer camps
Minimum age: 7 years old
Started by 2 brothers who grew up in Half Moon Bay, Tommy Tsunami is a trusted surf camp that operates out of Surfer's Beach at the Princeton Jetty. The two brothers are both locals of the Maverick's lineup, the experts-only big wave break just outside El Granada.

I talked with Tommy himself, and he was really frank about what sets his surf school apart. They are priced premium, and they offer a premium service.

They replace their boards and wetsuits every 2 years, whereas some schools use them for 4 or 5 years. They pay premium wages, allowing them to hire instructors like Pete – a California State Lifeguard for 8 years and manager of the Half Moon Bay Junior Lifeguard summer program for 4 years. Tommy was proud to mention that they see a huge number of kids returning each and every year.

Also unique to Tommy Tsunami, you also get a "Stand Up Guarantee." If you are not standing on the board by the end of the lesson, the next one is free!

Surf camps are run from July thru August, Monday thru Friday, from 9 am to 12 pm. On the Tommy Tsunami website, you will find really good information and FAQs including the daily itinerary, what to bring, and their cancellation policy. They guarantee a maximum 3:1 student-to-instructor ratio, better than most.

Teaching over 1000 surfers every year, and with over 77 5-star Google Reviews and more on Yelp, Nextdoor, Facebook, etc (they claim "over 1000 5 star reviews), you can confident that they are professional and experienced.
Beach: Surfer's Beach (Princeton Jetty)
Drive from SF: 35 minutes
Equipment Rentals: included with lesson
Offerings: private instruction, group lessons, kids' surf camp
Minimum age: 7 years old

Sea, Surf & Fun began 12 years ago and has an admirable repertoire of 5-star reviews across a number of platforms. Open year round out of Surfer's Beach by the Princeton Jetty in Half Moon, they offer 90 minute private, semi private, and group lessons with a maximum of 4 students to every instructor (who are all first aid and CPR certified).

During the summer months, Sea, Surf & Fun also offers 3 and 4 hour surf camp experiences, Monday thru Friday, for kids 7 to 17 years old. The instructor ratio is bumped up for the kids, with one for every three surfers. They also offer 15% off for second week bookings, making this one of the more affordable summer surf camps in the Bay Area.

Something unique about Sea, Surf & Fun is their E-Foil Lessons. E-Foils are a new technology in the world of board sports, where you ride a powered surfboard that's actually hovering above the water on a submerged wing. E-Foils are super expensive, but they have partnered with a manufacturer to bring intro lessons to you for only $160.
Beach: Surfer's Beach (Princeton Jetty)
Drive from SF: 35 minutes
Equipment Rentals: included with lesson.
Offerings: private and group lessons, corporate outings, and surf camps
Minimum age: 7 years old
Started in 2015, Pillar Point Surf School is one of the longest running permitted and insured surf schools out of Half Moon Bay. They offer private and group lessons as well as surf camps and corporate outings. Each of their instructors is First Aid and CPR certified.

What sets Pillar Point apart is owner Matt Wilkinson's experience as a teacher and parent. I talked with Matt on the phone, and his passion for introducing kids to the ocean in a safe environment was infectious. His surf camps are as much about play, teamwork, and friendship as they are about standing on a surfboard. It's no surprise that he ends up with the same kids in his camp, year after year.

Private and group lessons run from April through October. During the summer months, surf camps are run weekly, Monday thru Friday from 9 am until 12 pm. They maintain a 3:1 student to senior-instructor ratio, with additional junior instructors for personal attention to each child.

Beach: Surfer's Beach (Princeton Jetty)
Drive from SF: 35 minutes
Equipment Rentals: suggested local surf shops
Offerings: private lessons, group classes, surf camps
Age range: unknown



Open Ocean was founded by Dave Alexander, a Half Moon Bay native with a background in education and over 25 years of teaching experience. This was the first licensed and insured surf school in Half Moon Bay, and their instructors are First Aid and CPR certified. They operate at Surfer's Beach (Princeton Jetty) in San Mateo county.

Open Ocean offers private and group surf lessons, as well as summer surf camps for kids. In true surfer fashion, Dave's website is limited, so I would suggest calling him on the phone. The Open Ocean experience is all about personalized instruction with a dedicated surf educator.



Beach: Marin Beaches
Drive from SF: 30 minutes (to dropoff)
Equipment Rentals: included with lesson
Offerings: summer surf camps
Minimum age: 7 years old



Big Dog Summer Surf Camp is a dedicated Marin summer surf camp for kids. Programs are offered Monday thru Thursday from 9 am to 4 pm, and you sign up for two weeks at a time. At the time of writing, the cost is $1200, per kid, for two weeks.

While they frequent Muir Beach, the pickup/dropoff locations for kids are in downtown Mill Valley, just across the Golden Gate Bridge. On Big Dog's website, you will find super helpful instructions about what to pack for your kid, as well as how to prepare them for surf camp.



Beach: Stinson Beach
Drive from SF: 50 minutes (30 to dropoff)
Equipment Rentals: included with lesson
Offerings: private instruction, group lessons, kids & adult surf camp
Minimum age: 7 years old



Stinson Beach surf camps are run weekly from June until mid September, from 9:30 am until 3 pm. They are generally geared towards kids, but they maintain a few weeks each summer for adults only, which is unique. Pickup and dropoff for kids is at Stinson beach, or for a small fee in Mill Valley. It's super easy to sign up with their online booking system. And as an added bonus, they staff a professional photographer and you will have the option to purchase pictures at the end of the week!

Stinson Beach Surf Camp offers private and group lessons, and the group lessons have a maximum of 5 students with 2 instructors. That's the best ratio of instructors to students that I came across. They cater to beginners, but they are also dedicated to advancing surfers. Their intermediate lessons include water videography to help you improve!

Lastly, check out their multi-day surf adventures throughout California and Central America. Fully outfitted and guided, this is a unique opportunity to take your surfing to new locations!



Beach: Marin
Drive from SF: 30 to dropoff
Equipment Rentals: equipment and carpool included.
Offerings: surf & skate lessons, surf & skate camps, weekly skate nights.
Minimum age: 7 years old
Ladies Shred is one of the most progressive, creative, and inspiring organizations on this list. Based on a lack of female representation in both communities, they offer women-only instruction and camps for both surfers and skaters. Founded by Lil, a long-time instructor at a number of Marin's biggest surf schools, Ladies Shred is meant to be a safe landing spot for everyone, especially young ladies.
Lil's extensive experience has given her not only a big vision but also really practical tools to put it into action. Recognizing the need to maintain short attention spans, the Ladies Shred camps alternate between surfing and skating, with a day of artwork as well. Sometimes they literally break out chalk pencils and decorate the company van – Lil knows how to keep kids psyched!
Ladies Shred is also dedicated to improving equity and access. Advocating for the creation of public skate parks, offering scholarships, and hosting a weekly skate night in Mill Valley are just two of the ways that Lil says she hopes to create opportunities for underserved kids.
If you are looking for a way to build your daughter's confidence and sense of community, check out Ladies Shred.
Beach: Bolinas and Stinson
Drive from SF: 50 to 65 minutes
Equipment Rentals: available for rent
Offerings: private instruction, group lessons, women's clinics and camps, Friday with the Ladies
Minimum age: 5 years old
Of all the providers I encountered, Marin Outdoor Adventure stood out as a place of welcome. First, the business is female owned and employs mostly female instructors. They also speak extensively about diversity, equity, and inclusion, with a focus on getting underserved and BIPOC communities out in nature and into the ocean. They put their words into action with a number of "Give Back Initiatives" that you can find detailed on their website.

They offer both private and group lessons for a variety of experience levels. Some of their more unique offerings include Friday with the Ladies for intermediate-level women surfers, 4-week Mother & Daughter workshops for relationship building, and Women's Surf Clinics from April to October for all skill levels.

Marin Outdoor Adventures also offers Mindfulness in Nature and Guided Plant Walk opportunities. Both speak to their dedication to a more holistic view of nature and the human experience within it.

Lastly, you will even find that some of their offerings are priced on a sliding scale. They ask that you pay what you are able, and what feels right, which speaks to the authenticity of their desire to make a positive impact on their entire community.

Beach: Bolinas Beach
Drive from SF: 65 minutes
Equipment Rentals: boards included, wetsuit rental
Offerings: private instruction, group lessons, kids' surf camp
Minimum age: 7 years old (8 for camp)

Located on another of Marin County's great beginner surf spots, Bolinas Surf Lessons offers instruction during the months of March thru October when the Pacific Ocean is most conducive to learning to surf.

Private lessons are great for anyone 7 years and older, while group lessons are super affordable and are offered on weekdays only. There are Level I and Level II classes depending on your level of experience.

The summer surf camp runs from June through October, with weekly 4-day camps for kids aged 8 and above. Camp starts at 10 am and ends at 3 pm, and the dropoff spot is right at Bolinas Beach. The camp is broken into three different age groups.
Beach: Bolinas Beach
Drive from SF: 65 minutes
Equipment Rentals: included
Offerings: private instruction, group lessons, adult bootcamp, kids surf camp, counselor-in-training, Sunday mini-camp
Minimum age: 7 years old

Parents…want to get in a session while someone takes over with the kids? Every Sunday, Pacific Coast Surf Lessons offers mini-camps for kids! For only $90 they provide all the equipment you need and 1.5 hours of surf instruction. And apparently, a membership option is in the works.

For adults, they've got a "bootcamp" that meets on the last Sunday of each month. Ages 16 and up are welcome from 10 am – 12:30 pm, and all equipment is included. What a great way to make new surf friends!

In addition to the kids' summer surf camp, they also offer a unique Counselors in Training program for teenagers 13 and older. CITs will be assigned an instructor to assist in group and equipment management. They also get to surf every day! Even better, the program is way cheaper than the standard camp rates.

Pacific Coast Surf Lessons also offers private and group lessons, as well as a summer camp Monday thru Thursday, 10 am until 3 pm. Their surf camp is really focused on getting kids in the water, striving for 2 sessions each day.

HOKALI is a name you are going to encounter when you search for surf lessons in San Francisco. While they are still offering surf lessons at the time of writing, mostly at Linda Mar, they weren't interested in talking to me as their primary focus is partnering with schools for after-school programs. Instead, check out Aqua Surf Shop and Scott Wagner (above). Scott was one of the main HOKALI instructors, but he now operates mostly via Aqua.
Honorable mentions…
MeWater Foundation San Francisco
If you believe in the power of getting kids into nature and the environment, then you will appreciate what Eddie Donnellan and Tim Gras have created for the underserved youth of the San Francisco Bay Area.

MeWater's mission statement?

"Educating, inspiring, and empowering underserved youth through the magic of mother nature. At the MeWater Foundation, we have witnessed first hand how exposure to the ocean and mother nature has the power to educate, inspire, and empower. We work to address trauma and stress in young people from backgrounds of poverty and violence in the San Francisco Bay Area and provide them a different way of relating to the world and communities they live in."

If you have time or resources to spare, consider giving to MeWater. I can say from experience that volunteering with them is always meaningful and positive.
City Surf has also emerged to fill the needs of youth in the Bay Area, and they are all about "ensuring equitable access to the ocean and surfing." City Surf has organized and grown quickly, allowing them to reach over 2000 youth already. City Surf partners mostly with local schools, allowing students a sanctioned and structured way to experience the ocean.

City Surf is also always in need of volunteers for both their daily surf lessons and their fundraiser events. Donations are also certain to be put towards meaningful change.

Paddling and kitesurfing lessons
Beach: Crane Cove Park
Drive from SF: none
Offerings: private lessons, group classes, spring break camp, summer camp, season passes, and storage.
Age minimum: 7 years old

Dogpatch Paddle is a professional paddling outfit located really close to downtown San Francisco in the Dogpatch neighborhood. Being located on the Bay, water conditions are generally calm and beginner friendly for both kayaking and stand up paddling (SUP).

In addition to private and group lessons, Dogpatch Paddle offers weeklong spring break and summer paddling camps for kids, from 9 am until 3 pm, right here in the city. This is made for busy parents with adventurous kids!

Some of the truly unique offerings from Dogpatch Paddle include SUP and kayak season passes for individuals, couples, families, and even corporations! They will also store your personal paddleboard or kayak, and offer intensive paddle "boot camps" for adults looking for a fitness experience.
Beach: Treasure Island
Drive from SF: 10 minutes
Equipment Rentals: included
Offerings: kiteboarding, wing foiling, e foiling, expeditions, ride under the Golden Gate Bridge.

KiteTheBay is the place for all your non-surfing "extreme" watersports. They offer online booking for beginner, intermediate, and advanced kiteboarders. They even offer a package dedicated to getting you out into the elements alongside Alcatraz or underneath the Golden Gate Bridge!

In addition to kiteboarding lessons, you will find resources for the new sports of wing foiling and e foiling, as well as group expeditions down to Baja.
Best surf spots for beginners
Northern California is home to some raw Pacific Ocean energy. There is always the potential for big surf, rip tides, and even some scary marine life. I can't guarantee that the spots below are "safe," but they are generally regarded as the best surf spots for beginners.

So what makes a good beginner surf spot? Generally speaking, you want waves that break over sand, locations that are sheltered from big waves and heavy winds, minimal riptides, and lifeguards or at least enough people around to keep an eye on you.

Water quality is also an important consideration. The most suspect locations are the ones closest to large populations. Here's where to find water quality updates in the San Francisco Bay Area. And look here for Pacifica water quality updates.
If you've got a four-legged friend, you might be wondering if there a local dog-friendly beaches where you can also learn to surf. Be sure to check out my Guide to Dog Friendly Beaches in SF!
You might also be wondering when is the best season to surf in the Bay Area, and how do you check the forecast? Summer tends to have the smallest waves, although the wind can be strong through June. Later in the summer and early Fall are your best chances for sunshine, friendly waves, and light winds. MagicSeaweed is a great free surf forecasting tool, Windy.com is awesome for visualizing wind patterns, and Surfline is an incredible paid tool with live webcams at Linda Mar, Ocean Beach, and Stinson Beach.
Bolinas Beach
Located in Marin County, the quiet coastal town of Bolinas hosts a great year-round surf spot for beginners. Bolinas Beach is tucked inside a large peninsula, meaning that the waves are consistently small, and it is often sheltered from the wind. You can find rideable waves here most days, at both high and low tide. Bolinas tends to have more variety than most Northern California beginner locations, boasting a rivermouth sandbar and a mellow, rolling set of beachbreaks. The only time you will want to avoid Bolinas is when the wind is out of the south (onshore).
Stinson Beach
Just south of Bolinas, Stinson is another great Marin county beginner surf break. It picks up a little more swell, so if Bolinas is flat, try Stinson. Stinson is located on a long, sandy public beach with lifeguards, restrooms, ample parking, picnic tables, BBQ grills, and nearby restaurants. Stinson Beach is a no-brainer for groups of friends looking for some waves and a day at the beach.
(maybe not) Ocean Beach, SF
This article is centered around San Francisco, and Ocean Beach is the closest surf spot for most SF residents. And yes, there are a few special days a year when Ocean Beach is great for beginners. But, for the most part, OB is rugged, raw, cold, and downright dangerous for beginner surfers. The rip currents are gnarly, and it is usually bigger than it looks. Surfers are lost at Ocean Beach annually, so BE CAREFUL. If you are dead set on surfing Ocean Beach, look for surf forecasts of 1-2 foot waves, with winds of less than 10 knots.
Linda Mar, Pacifica
This is the closest beginner surf spot to San Francisco. On a sunny weekend day, you will share the water with hundreds of people. And that's ok because it's a big beach and everyone is there to have some fun. Linda Mar has some magical wave-deflection characteristics, meaning that despite being open to the west, the waves average 2-3 feet. Linda Mar is surfable on all tides, but low tide is best for beginners. And it is best when the wind is light or easterly (though it can handle other winds too). Note that there is lots of parking, but it's pricey! And DO NOT park in the Taco Bell lot, you WILL come back to a parking ticket.
Surfer's Beach (Princeton Jetty), Half Moon Bay
North of Santa Cruz, Surfer's Beach is the best beginner surf spot. Ironically situated just inshore of one of the world's scariest big waves, Mavericks, friendly beginner surf breaks just off of the Princeton Jetty. Most of the ocean's energy is focused on Mavericks, leaving just enough for small beginner waves for you. Parking is roadside and a little limited, and there are no lifeguards, but there are almost always surfers in the water. It is also a bit foggier on this stretch of coast, so bring a thick wetsuit and warm clothes for after your session.
The gear you need
Wetsuit for cold water
A fullsuit (full-body wetsuit) is mandatory for surfing in Northern California. A minimum of 4/3 (mm) thickness is needed, and I suggest a 5/4 with a hood. I would also recommend neoprene boots ("booties") so that your feet don't go numb. If you are cold, you won't be as successful in learning to surf. If you are going to spend money on one item, make it a good wetsuit that fits well. Don't buy this online, go get fitted at Aqua Surf Shop!
Beginner surfboard
These days, everyone is learning on a soft top (aka foamie, wavestorm) with flexible fins. And this is great news. Not only are you guaranteed to collide with your board, but your board might also collide with others. Everyone is much happier if your board is made of foam! I suggest renting boards initially, as you may want to graduate to a more high-performance, solid board before you purchase. Look for something 7 feet or longer, usually 8-10 feel, to make sure there is enough flotation to get you started.
Accessories
Fins generally come with surfboards, but if yours doesn't you'll need fins. Start with flexible rubber ones to minimize the damage in those inevitable collisions.
Leashes are also mandatory unless you have the beach to yourself. Your leash should be at least the length of your board.

You will also want some cold water wax to rub on the top of your board for traction, sunscreen to keep you from turning into a tomato, and I highly recommend a changing poncho to make getting into and out of your wetsuit seamless.

Want professional photos?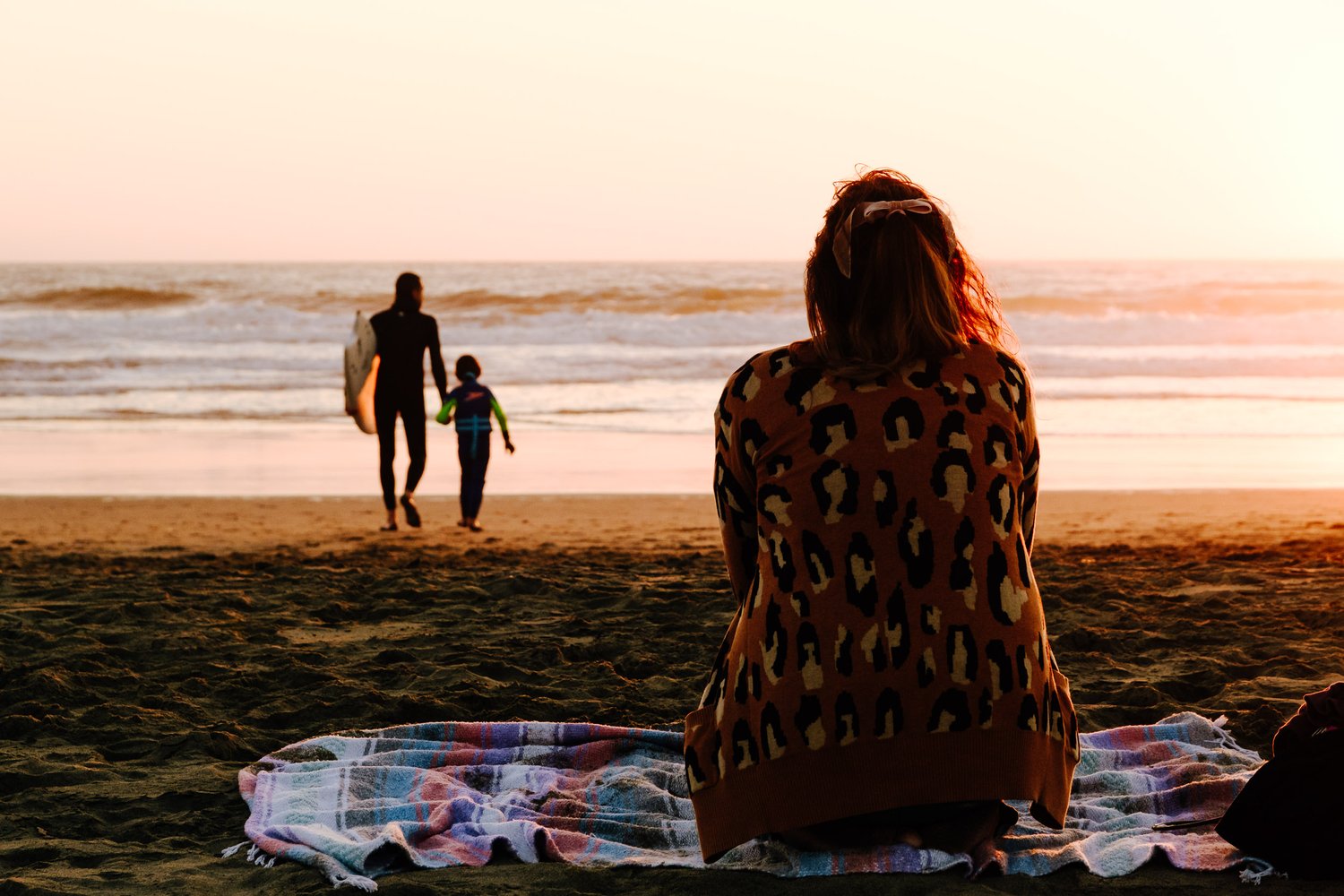 Signing your kid up for a surf class? Scheduling lessons for the whole family? Visiting SF and learning to surf while you're here?

No matter what kind of surf lessons are the right fit for you, having professional photos to remember the experience is a must. And while those action shots are fun and great to show your friends, you also want pictures that tell the story of the day. The highs, the lows, the struggles, the wins.

Click to learn more about my family photo session pricing. I love to customize these sessions to fit your most adventurous itinerary.
Thanks for being here. I'm David Enloe, a San Francisco family photographer. I make soul-stirring pictures for families that find adventure around every corner. Want to learn more about the person behind the camera?